SUMMER ALLAN WILSON LCSW-S
POST GRADUATE CLINICAL SOCIAL WORK SUPERVISOR
AS OF JULY 31, 2023 SUMMER IS NO LONGER ACCEPTING ANY FORM OF MEDICAID INSURANCE.
Summer Allan Wilson is a Licensed Clinical Social Worker with Recognition as a Clinical Supervisor for newly graduated Masters level Social Workers. This is the absolute highest level of Clinical Social Work licensure available in the State of Texas.
She began her career over 31 years ago when she graduated with her Masters Degree in the Science of Social Work from the prestigious University of Texas at Austin. Summer's passion for very young children's issues, trauma resolution, family therapy and all matters surrounding complicated, high conflict divorce led to her opening her own office. She founded East Texas Family Guidance Center over two decades ago as a specialty pediatric counseling clinic for families with children ages 0-18. Her longevity in the field of pediatric psychotherapy is testimony to her dedication and her effectiveness with families. Summer stays at the forefront of her profession by maintaining strong alliances with a multi disciplinary team of professionals locally in East Texas and from all across the United States. She has become known for her expertise in Trauma Resolution, Trauma Focused-CBT, Infant Mental Health and Attachment Issues. Summer is also referred to as a "Court Involved Therapist". This is a highly specialized element of her practice which blends psychotherapy with the needs of the Court. At times her involvement with families in conflict may require her to give testimony as an expert witness in both civil or criminal matters. She has been qualified as an "Expert Witness" in multiple counties across Texas.
In addition to being a prominent pediatric psychotherapist, Summer has presented lectures at local and state mental health conferences. A wide variety of audiences have also heard her speak on the topics of ethics, diagnostic interviewing, healthy boundaries, how trauma effects learning, and how early childhood trauma impacts the developing brain.

Summer is an interactive, solution-focused therapist. Her therapeutic approach provides support and practical applications to help clients effectively address personal life challenges. She integrates contemporary methodologies such as evidenced based interventions and intracate psychotherapy techniques to provide you with highly personalized, immediately useful methods for change.

Every aspect of your involvement with Summer Wilson and the staff at East Texas Family Guidance Center will be handled with the utmost discretion and professionalism. For more information regarding client privacy, please click on the "Things Everyone Should Know" tab at the top of the page.
Overview of Summer's Professional Qualifications
Education : University of Texas -Austin MSSW 1992
License : Texas Board of Social Work Examiners #22168 -Supervisor
Additional Training : Child Custody Evaluator (in training under Dr. Tammy Axelson DSW) - 2023, Parenting Plans and Custody Evaluations AAFC - 2020, Post Graduate Clinical Social Work Supervisor Certification - University of Texas - Austin 2019, Certified Advanced Master Case Manager- National Association of Social Workers - 2014, Trauma Focused Cognitive Behavioral Health Learning Collaborative - Child Advocacy Centers of Texas 2012-2014, Forensic Interviewing Certification - 2003, Infant Mental Health Institute University of California - San Diego CA 2002, Level One Mitigation Certification for Capitol Punishment Cases in Texas - 2000
Professional Activities and Memberships : Texas Social Work Association, National Association of Social Workers, Association of Family and Conciliation Courts, National Association of Infant Mental Health.
---
MEET THE NEWEST MEMBER OF EAST TEXAS FAMILY GUIDANCE CENTER

---
Kimberly Essler, M.A., LPC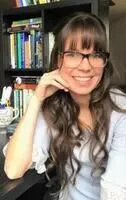 Kimberly Essler is a Licensed Professional Counselor. She graduated from LeTourneau University with a Master's degree in Clinical Mental Health Counseling. She specializes in neuropsychology and has earned a certification in neuropsychology from Ball State University. Kimberly will complete her Doctorate of Philosophy (Ph.D.) in Psychology with a concentration in Theology in early Spring of 2023.
Kimberly works with an array of issues including couples intimacy concerns, marriage counseling, family counseling, parenting, trauma and abuse, children and adolescent therapy, various personality disorders, aggression and other behavioral difficulties. A special focus Kimberly brings to the clinic is her desire to help those seeking spiritual direction. In addition to individual and couples therapy she has experience in facilitating group therapy and provides therapeutic services to nearby school districts and alternative schools.
Kimberly is a practical and interactive therapist who uses a variety of therapeutic techniques. Her treatment approach is to provide support and feedback to help clients resolve current and long-standing concerns. She provides a mix of conventional, spiritual, and alternative approaches that will be most beneficial for each individual client. Kimberly honors all people and life perspectives. It is with compassion and genuine concern for healing and growth that she seeks to help you achieve and maintain a happy and well-balanced life.
To schedule an appointment with Kimberly please use the following link and click on "Appointments" in the top right corner, then scroll down to select her name: https://kimberly-essler.client...
Kimberly's Current Rates
45 minutes individual - $75
60 minute individual/couple/family - $90
90 minute individual/couple/family - $150
Request for progress notes for the client or for a third party - $30
Written correspondence (medical, court, etc.) - $75 per page
Meeting outside of Kimberly Essler's office, such as court hearings or home visits…… $700/day $350/half day *must be paid in full 48 hours in advance
*I am an out-of-network provider and do not file insurance.
Cancellation Policy: If you do not show up for your scheduled appointment, and you have not notified me at least 24 hours in advance, you will be required to pay the full cost of the session.
Professional Memberships : Kimberly is a current member of the American Counseling Association, Christian Association for Psychological Studies, and Christian Counselors of Texas. Kimberly has also completed CITI Program training for Social and Behavioral Researches and Human Subjects training.